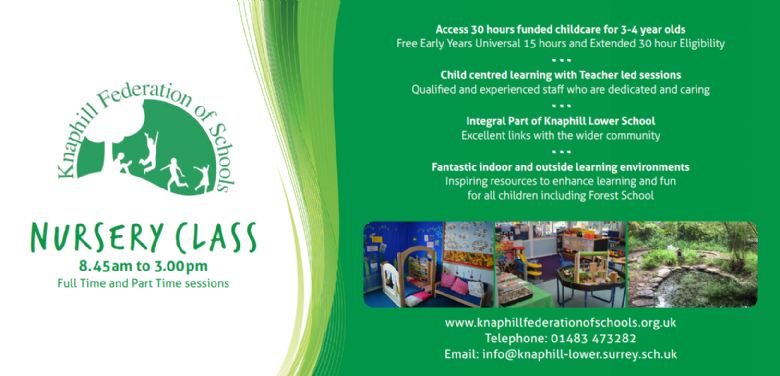 Teacher Led Free early education for 3 and 4 year olds within the Knaphill Lower School Maintained Nursery
Free Early Years Universal Entitlement (FEYE)
Our Nursery is included in the Local Authority directory of providers who can receive funding for the free Nursery entitlement scheme. This is available to all children the term after their third birthday and provides up to 15 hours per week free Nursery provision.
We also offer Nursery Provision surplus to the 15 hours funded. Top-up hours are payable at a rate of £18 per 3 hour session (to be reviewed annually).
Starting from September we will also be offering 15 +15 hours (Extended Entitlement)  funded for those eligible.  To ascertain ​eligibility please go to www.surrey.gov.uk.
For further information please contact our Nursery Admissions Co-ordinator, Mrs McBride on 01483 473282, or email her directly on info@knaphill-lower.surrey.sch.uk
Session options
Full Time
(Monday – Friday 9am to 3pm)
Monday / Tuesday Full day (9:00am- 3:00pm),
Wednesday Half day (9:00am- 12:00pm)
Wednesday Half day (12pm – 3:00pm),
Thursday / Friday Full day (9:00am- 3:00pm)
Additional Hours to run on consecutive days to those already taken
(i.e. Monday/Tuesday 9am – 3pm & Wednesday 9am – 12pm + Wednesday 12pm – 3pm)