Curriculum Intent, Implementation and Impact
Intent
Our curriculum intent is for all our children to:
Be confident to be themselves
To be curious about learning
To have the courage to step outside of their comfort zone
To be compassionate to those around them and in the wider world
Our curriculum drivers are:
Our curriculum is designed around our curriculum drivers, which are: Confidence, curiosity, courage and compassion.
We have chosen these four drivers as they are what we aspire for all children to leave The Knaphill Federation of Schools with. We have designed our curriculum to provide lots of opportunities to develop children's self-esteem and confidence to be themselves, to be curious about learning and self-motivated, to have the courage to step outside of their comfort zone and to show compassion to those around them and the wider world.
Knowledge and skills-key focus
We have designed our curriculum to be broad with rich experiences and a clear knowledge base, which places National Curriculum objectives in a local and cultural context for KFOS Children.
Literacy is the prioritised key skill, enabling access to wider curriculum and exposing children to a language rich environment; mathematics is delivered via mastery approach; key skills in Computing, RE, Science and Foundation subjects are planned progressively either discretely or linking to a topic.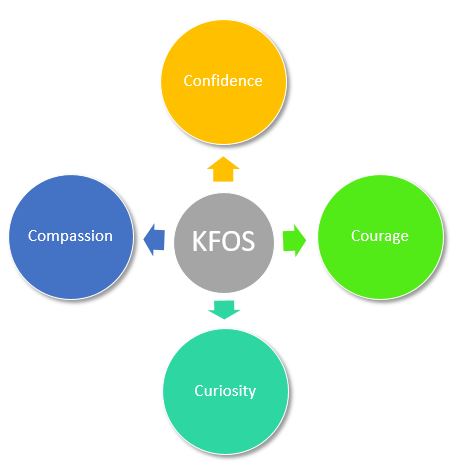 Implementation
Our curriculum is implemented in 4 layers:
Our Early Years Foundation Curriculum- knowledge and skills
Our Key Stage One and Key Stage Two National Curriculum objectives
Our personalised Knaphill Federation of Skills Curriculum that is tailored to meet the needs of our children.
Our teaching pedagogy – how our teach lessons and how they plan lessons.
For more information on our layered curriculum, please see the table below.
Layer 4
Our teachers use clear modelling to teach knowledge and skills and regularly check for understanding to assess what children understand and how they can best support their next steps. We use Rosenshine's Principles of Instruction in all our lessons to ensure that we teach in a way that maximises learning as our teaching approach is evidence-informed.
Layer 3
Our KFOS curriculum is:


Topic based with knowledge organisers identifying key knowledge to ensure depth of knowledge and understanding.
Enquiry based learning for topics- children apply learning to answer topic question.
Subject specific skills and knowledge are taught progressively
Learning is cross curricular to provide children with a range of learning opportunities.
Regular opportunities to recall and apply previous learning to deepen understanding.

Layer 2
Key Stage 1 and 2 - build on the important foundations laid in early years. Skills and knowledge for all subjects are taught progressively in each year group to ensure that children build on prior learning and that skills are deepened.
Layer 1
Early years - we ensure that learning is engaging and develops a lifelong love of learning. Our curriculum provides all children with the knowledge, skills and understanding to be happy, safe, confident, inquisitive, independent and critical learners.
Impact
The impact of our curriculum is measured in terms of the extent to which pupils have developed new knowledge, understanding and skills and that children can recall and use this fluently.
This will be measured by:
Outcomes in KS1 and KS2 tests
Knowledge Organiser end of topic assessment tasks
In school attainment tracking
Attendance data
Behaviour Logs
Engagement in enrichment activities
Pupil voice – questionnaires, pupil parliament meetings, SLT meetings with children
Subject Leader monitoring – Lesson visits, scrutiny of books, assessment, pupil interviews and questionnaires
Governor monitoring