Dear Parents and Guardians,
I hope you all have had a wonderful half-term holiday. I wanted to update you with our latest thinking on the COVID Safety Measures that we have in place across the Federation.
We were very much hoping that by this stage in the National Roadmap we would be looking at the possibility of moving to larger bubbles and being able to lift several of the other measures we have in place. However, looking at both the local and national picture, we do not feel that now is the right time to be doing this.
Instead, we need to continue to do all we can to avoid any class bubbles having to be sent home. In school we are keen to ensure that planned enrichment experiences and activities go ahead by careful timetabling and putting in place as many COVID measures as we can. This will include trying to avoid large groups of children from different class bubbles mixing together.
All other plans for activities with parents coming onto site, or larger groups of children mixing will be revised nearer the time, according to the latest government guidance and restrictions.
The DfE guidance for primary schools has currently not changed, so until this happens or the national and local picture is looking more positive, our current Safety Measures will remain in place.
Best wishes,
Miss J. Concannon Federation Headteacher
Sun Safety
It is wonderful the warmer weather has finally arrived! Please can you ensure that your child brings a sun hat into school with them and has sun cream applied before they come to school. If you think that your child may need an additional application during the day, please send them into school with a small travel sized bottle of sun protection. We kindly ask you to support your child at home to learn how to apply their sun cream independently.



Follow us on Facebook
We are really excited to share with you our new Knaphill Federation of Schools Facebook account.
Please follow us as we start our social media journey where we will begin sharing our experiences and achievements across the Federation.
Please search for the Knaphill Federation of Schools Facebook Page and follow us. We would really like this to be a strong positive platform for our school community and really appreciate all of your support. If you ever have any worries or concerns please continue to e-mail the Year Group e-mail accounts or e-mail the school offices directly.
Writing Competition
We are challenging all pupils in Years 1 – 6 to write their very own super hero story.
Your story should be no longer than 500 words and must be handed in to your class teacher by Friday 25th June.
Your story can be about a well-known super hero, one that you have invented yourself or somebody who has been a hero during the pandemic – remember not all heroes wear capes!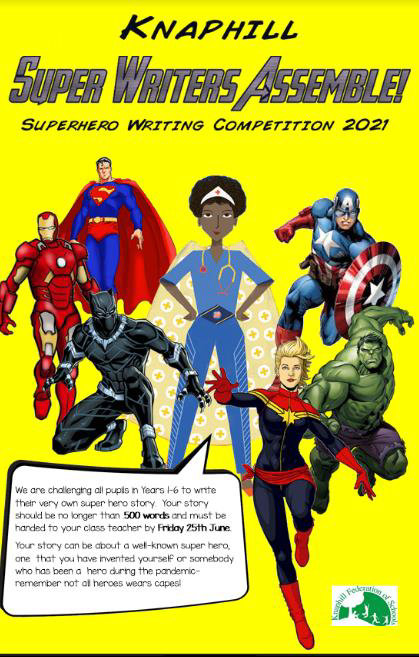 Information – For Parents with young babies Expected rise in bronchiolitis cases
As lockdown restrictions begin to lift and families start socialising, and attending group play and classes, Surrey are beginning to see a rise in cases of bronchiolitis across hospitals in Surrey due to the spread of Respiratory Syncytial Virus (RSV). This is particularly unusual for this time of year and reports from Australia indicate we could see a large surge in England in the coming weeks as infants have yet to build up their immunity.
To avoid placing additional pressure on our paediatric services please be aware that as COVID-19 cases drop and we start socialising again other viruses are rising.
Bronchiolitis is a very common virus spread the same way as COVID-19 and most babies get better on their own but a small number of babies can become very unwell
To help keep your baby well, regularly wash their hands and toys and make space from those who have coughs and colds which can lead to bronchiolitis in babies
If you have any concerns about your baby please contact your GP or call 111 Further helpful information on Bronchiolitis is available on the NHS website.
Don't Forget! Class Photographs
Please remember to wear your full school uniform and school shoes.
Knaphill School – Monday 14th June
Knaphill Lower School – Wednesday 16th June